welcome to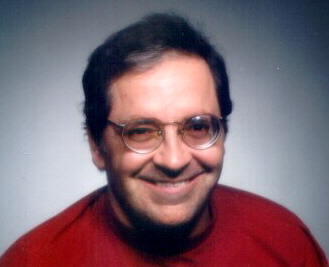 Hot Hot Topics - September 2003
Your Monthly Update on the Flowmeter Industry from Flow Research
Editor: Dr. Jesse Yoder - Volume 4, Number 5 - ISSN 1350-7204
Previous issues of Hot Hot Topics
Welcome to the September 2003 issue of Hot Hot Topics! In this issue, we take a more in-depth look at several flow technologies: vortex and ultrasonic. We also tell you about a company that is introducing a new flow technology. Pictured below is a sign for Barton Instrument Systems. Take a careful look at this sign, because it may soon disappear. See below for why.
Overview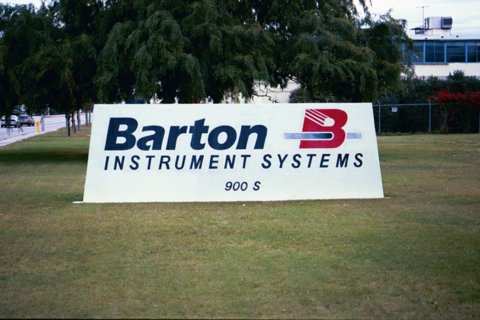 Look quickly because you may not see this sign for too much longer! The oil & gas division of Barton Instrument Systems has been sold to SCF Partners in Houston, Texas. And the rest of Barton is now called Prime Measurement. For the complete story on this deal, and seven other recent ownership changes in the flowmeter industry, see the Worldflow Barometer for Quarter Three, 20003.
We begin this issue of Hot Hot Topics with an original article written for this issue on the vortex flowmeter market called When Will the Vortex Flowmeter Market Pick Up Steam? The next story is a press release on the ultrasonic flowmeter market, including market size and growth forecasts for the next five years. It's called Ultrasonic Still the Fastest Growing Type of Flowmeter. The next story picks up the acquisition theme, and is called Siemens Buys Danfoss Flow Division. After this is a short summary of our Worldflow Monitoring Service. Article 5 describes a new sonar flow technology from CiDRA Corporation of Wallingford, CT. Following this is an announcement of a new magnetic flowmeter from Yokogawa Corporation of Japan. Story 7 refers you to information about a new flowmeter study from Flow Research called The World Market for Ultrasonic Flowmeters. The final story gives you the details of Flowday 2003, to be held in October.
If you like Hot Hot Topics, you will love the Worldflow Barometer! Every quarter the Worldflow Barometer brings you completely up-to-date on the worldwide flowmeter market. We tell you who's being acquired and who's selling, what new products are out, and advise you on market strategies. Plus, every quarter we take an in-depth look at one or more flowmeter companies that you need to know about. Join the growing ranks of companies that are relying on the Worldflow Barometer to keep them abreast of developments in flow. Click here for more information.
What do you think of Hot Hot Topics? We welcome your comments! Please send any comments or suggestions to Flow Research, or by email to jesse@flowresearch.com.
Articles
1. When Will the Vortex Flowmeter Market Pick Up Steam? Vortex flowmeters have been around since 1969 when Eastech introduced them. But Yokogawa is the company that made vortex meters popular in process control markets. Yokogawa brought out their first vortex flowmeter in 1972. Since that time many changes have occurred in the vortex flowmeter market. Yet Yokogawa still remains the leading supplier of vortex flowmeters worldwide. (PDF File)
2. Ultrasonic Still the Fastest Growing Type of Flowmeter, Says New Flow Research Study
Wakefield, Massachusetts; August 26, 2003 — Ultrasonic flowmeters remain the fastest growing type of flowmeter, according to a new market study from Flow Research (www.flowresearch.com). Sales of ultrasonic flowmeters worldwide totaled $255 million in 2002, and revenues are projected to grow at a compound annual growth rate (CAGR) of 9.0 percent through 2007. In 2007, the worldwide market is projected to be valued at $393 million. (PDF File)
3. Siemens Buys Danfoss Flow Division - Danfoss A/S, Nordborg, Denmark, have signed an agreement on May 12, 2003 about the acquisition of the Flow Division of Danfoss by Siemens A&D. Siemens reports that this acquisition will be completed on September 1, 2003. (PDF File)
4. Worldflow Monitoring Service - How do you keep up-to-date between flowmeter studies. The answer is the Worldflow Monitoring Service! As a subscriber, every month you get a report that keeps you update on the flow industry (Worldflow Barometer), the process industries (Worldflow Monitor), or changing user needs (Worldflow Perspective). Subscribe to all three reports and get 10 percent off flow studies and custom projects. Click here for more information.
5. CiDRA Develops New Sonar Flow Technology - It isn't very often that a new type of flowmeter comes along. CiDRA Corporation of Wallingford, Connecticut is in the process of introducing a flowmeter that has all the earmarks of being a genuinely new flowmeter technology. The new meter is called the CiDRA SONARtrac™ flowmeter, and it uses array processing technology to generate a volumetric flowrate in closed pipes. (PDF File)
6. Yokogawa Releases the ADMAG AXF Series - Tokyo, Japan, July 7, 2003—Yokogawa Electric Corporation announces the release of an upgraded version of its ADMAG series magnetic flowmeters, which can measure liquid flow with high accuracy, and will launch marketing of this as the ADMAG AXF series both inside and outside Japan on July 11. (PDF File)
7. The World Market for Ultrasonic Flowmeters - Flow Research has recently released a new worldwide ultrasonic flowmeter study. It includes market size and market shares for ultrasonic flowmeters by geographic region. Individual studies are also available on other flowmeter technologies.
8. International Flowday 2003 will be held this year on October, 16 at the Bretby Conference Center in the United Kindgom. Flowday offers manufacturers, distributors, consultants, and end-users a unique opportunity to get together and discuss matters flow-related.