FlowTimes – September 2017
Your Strategic Update on Flow, Temperature, and Pressure Measurement
from Flow Research
Executive Editor: Dr. Jesse Yoder; Volume 18, Number 2 – ISSN 1350-7204
1. Letter from the President
In our neck of the woods, summer is winding down. But we are not. There's something about that nip in the air in the morning and evening that invigorates. It's boosting our drive to keep up our pace of producing! After a long meeting among Flow Research staff, we are enthused to have set some hot plans for the cool seasons and through the year ahead. For the rest of 2017 and in 2018, we plan to publish studies on some topics that we have either not addressed before, or have not addressed as regularly as some of our "Core Topics" such as Coriolis, Ultrasonic, and Magnetic flowmeters. Dr. Jesse Yoder
We know that this is the time of year when many companies plan their budgets for the following year. We want you to know what will be available that might meet your upcoming needs.
During the rest of 2017, we plan to publish studies on the following topics:
· Magnetic Flowmeters www.flowmags.com
· Thermal Flowmeters www.flowthermal.com
· Vortex Flowmeters www.flowvortex.com
In 2018, we will broaden our scope further by publishing individual studies on the following types of flowmeters:
· Primary Elements (a component of differential pressure flowmeters) www.flowplate.com
· Positive Displacement flowmeters www.flowPD.com
· Turbine flowmeters www.flowturbine.com
· Open Channel flowmeters www.flowopenchannel.com
· Variable Area flowmeters www.flowVA.com
· Pressure Transmitters www.PressureResearch.com
· Mass Flow Controllers www.flowmfc.com
We also want you to be aware of the many studies we have published already this year, in case one or more of them meets your current needs. Those are listed below. Call or email us anytime if one of our published or planned studies seems like something that would help your company or if you have any questions.
We hope you enjoy this issue of FlowTimes. And thank you for your loyal support over the past years.
2. Recent Studies from Flow Research
Living up to one of the Flow Research mottos, "A steady stream of data is coming your way," our dedicated, capable team has been busy pulling together and publishing a wealth of useful information to be available for you! Since December 2016, we have averaged about one study per month. Recently published market studies include the following topics:
· Coriolis Flowmeters www.flowcoriolis.com
· Volume X (covers all flowmeters) www.flowvolumex.com
· Volume X: Module A: Strategies, Industries, and Applications www.flowvolumex.com
· Temperature Sensors in the Americas www.tempresearch.com
· Module A (to Multiphase): Watercut Meters www.watercutmeters.com
· Ultrasonic Flowmeters www.flowultrasonic.com
o Core Study
o Module A-Inline
o Module B-Clamp-on and Insertion
Visit the study links for overviews and ordering links plus other information related to the topic. You can also visit our convenient Secure Online Store where you can browse by topic, find information about our studies and our Worldflow publications, see options and prices, and, of course, use the easy, secure way to order. www.flowstudy.com And, if you prefer, you can still order our studies the same ways as before: by email, fax, mail, or by giving us a call.
3. Flowmeter Recalibration Working Group
Several years ago, Flow Research formed a group called Flowmeter Recalibration Working Group (FRWG). Our primary goal is to formulate criteria for determining when a flowmeter should be recalibrated. We formed this group because, in talking to end-users, they commented that there is no generally accepted industry standard for when a flowmeter should be recalibrated, and some of the end-users in the Middle East that we have interviewed during past visits there asked if we could help out with this.
The FRWG is currently a voluntary organization and has about 20 members. Members are from flowmeter calibration facilities, flowmeter manufacturers, and end-users. We had our first meeting at the CEESI North American Custody Transfer Conference in June, 2016, and we had another meeting this June at the same conference. There is no charge associated with membership in the FRWG. Also, it doesn't matter if your representative cannot attend our meetings, since most of our work is done by email. We may be able to schedule some meetings in Europe in the future.
You can find out more about the FRWG by looking at our website at www.frwg.org.
4. The World Market for Watercut Meters
Flow Research is pleased to announce that we have completed our new study, Module A: The World Market for Watercut Meters. Nine months in the making, we have contacted every known watercut meter supplier worldwide to arrive at an accurate determination of market size. We also talked to distributors and end-users to gain their perspectives on this important market.
Watercut meters are mainly used in upstream oil applications to determine the percent of water contained in the total fluid coming out of a wellhead or separator. They are also used in lease automatic custody transfer (LACT) units. Crude oil from a LACT unit typically goes to a pipeline, ship, railcar, or truck for transportation to a storage area or to a refinery. Watercut meters in some contexts are also called base, sediment, and water (BS&W) meters. BS&W meters determine whether the water content is below a certain acceptable threshold.
Our watercut study is a companion to the Multiphase study that we published last year. Multiphase meters are more complex than watercut meters because they measure three fluid phases rather than two. They also use different technologies, and are quite a lot more expensive than watercut meters. Watercut meters mainly use capacitance, microwave, and near infrared technology to analyze the water content of a fluid.
To the best of our knowledge, this is the first time anyone has published a market research study on the watercut meter market. If you are involved in this market, this is your chance to get a roadmap of the market that takes into account the 2015–2016 downturn in oil prices and also provides a five-year forecast of a recovering market. The base year of the study is 2016 and the forecasts go through 2021. The study includes market shares worldwide and by region, along with a product analysis for the main suppliers.
For more details, including ordering information, go to www.watercutmeters.com. Please contact our Sales Director Harry Lund or Jesse Yoder if you have any questions or would like to order the study.
5. GE Launches the TransPort® PT900 Portable Ultrasonic Flow Meter
Billerica, MA; March 30, 2017 T — GE Oil & Gas introduced the TransPort® PT900 Portable Ultrasonic Flow Meter, a clamp-on meter for liquid flow measurement. Significant customer research and input informed the design of the TransPort, leading to an all-new transmitter and clamping fixture and app-driven user interface on an Android tablet.
Depending on job requirements, technicians with varying levels of expertise may need to use portable meters daily or less frequently. To account for the differing experience levels and frequency of use requirements, the TransPort is so easy to install and intuitive to use that anyone can confidently make a flow measurement in just minutes and then move on to their next task. They do not need to spend valuable time programming and installing the meter.
Despite being a new design, the TransPort PT900 capitalizes on the superior transducer performance of its successful predecessor, the Panametrics TransPort® PT878. "The PT878 has a solid reputation for its reliable and accurate performance," said Tom Michalowski, global product manager for clamp-on flow meters, GE. "We took the best features from that product and improved upon it. The simplified user interface and installation process of the TransPort means users, regardless of their level of experience, can strap the fixture onto the pipe, program the electronics, and be ready to record measurements all within 10 minutes."
Since the clamp-on TransPort measures flow from outside a pipe, it does not require the process to be shut down for installation. Its portability allows it to be moved easily from location to location for temporary or spot flow measurement or check metering. Rugged transducers handle most pipe sizes and materials and liquids ranging from ultrapure to extremely dirty water and refined hydrocarbon liquids to crude oil, making it perfect for industries ranging from oil & gas and petrochem to water/wastewater and industrial.
Other TransPort advantages include:
· Bluetooth® communication between transmitter and tablet for wireless freedom
· Easy programming with touch screen, multiple-language user interface on an off-the-shelf Android tablet
· Fast responding transmitter with LED health indicators to ensure it's always ready to use
· 4GB of memory allowing for large data logs
· Improved accuracy (± 1% of reading)
· Easy to install clamping fixture that is virtually foolproof for confidence in the measurement
Flow Research features articles and products news like this in one of our WorldFlow Service quarterly publications, Market Barometer, focused on the flowmeter industry and related topics. For more information about WorldFlow, visit www.worldflow.com.
6. The World Market for Ultrasonic Flowmeters, 5th Edition
Flow Research has published a new set of three market studies on the worldwide ultrasonic flowmeter market. A primary goal was to determine the size of the ultrasonic flowmeter market in 2016, and to forecast its market size through 2021. The three studies are called:
· Core Study: The World Market for Ultrasonic Flowmeters
· Module A: The World Market for Inline Ultrasonic Flowmeters
· Module B: The World Market for Clamp-on and Insertion Ultrasonic Flowmeters
The three studies identify the following essential elements:
Market size (in dollars and units) in 2016for all types of ultrasonic flowmeters, worldwide and by region

Market shares in 2016 for all types of ultrasonic flowmeters, worldwide and by region

Market growth and forecasts for all types of ultrasonic flowmeters through 2021

Industries and applications where ultrasonic flowmeters are currently used, and areas of new market growth

Product analyses for the main companies selling into the ultrasonic flowmeter market

Strategies to manufacturers for selling into the ultrasonic flowmeter market

Company profiles of the main suppliers of ultrasonic flowmeters
These studies address the key issues in the ultrasonic flowmeter market today, including:
The impact of the oil price downturn on the ultrasonic flowmeter market

The significant differences in applications and industries among the three types of ultrasonic flowmeters: Inline, Clamp-on, and Insertion

Growth in the transit time ultrasonic flowmeter market by number of paths

The expanding use of ultrasonic flowmeters for custody transfer of natural gas

Mergers and acquisitions in the ultrasonic flowmeter market

New entrants, mergers, and acquisitions in the ultrasonic flowmeter market
Since completing our first ultrasonic study in 2001, we have been following this market very closely. The 5th Edition series studies build on the knowledge gained over the years and also present a fresh look at the market. As far as we know, Flow Research stands alone in providing such a comprehensive analysis of the worldwide ultrasonic flowmeter market. These three studies enable you to see both the forest and the trees when it comes to the ultrasonic flowmeter market. For more information on these new studies, please visit www.FlowUltrasonic.com.
7. MCAA Hall of Fame Program
MCAA has initiated a new "Hall of Fame" program to recognize individuals who have made important contributions to instrumentation and control. According to MCAA, "The thrust of the Measurement, Control and Automation Hall of Fame is to recognize individuals whose body of work has contributed to the instrumentation and control industry in a significant and memorable way". The first three members were inducted at the 2016 MCAA Industry Forum held in April in Nashville, Tennessee. Three more members were inducted this year at the 2017 MCAA Industry Forum: Judy Stephenson, Malcolm McQueen, and Bob Deane. (Biography excerpts courtesy of MCAA. More complete biographies at themcaa.org/industry-insight/hall-of-fame.)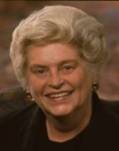 Judy Stevenson (Awarded Posthumously)
In 1964, she joined Magnetrol – then Schaub Engineering Company – as a part-time bookkeeper. In her first year of employment, she rose to accounting supervisor, then to accounting manager a year later. In 1967, she was elected treasurer and administrative vice president. She became president of the company in 1975, and, in 1978 — 14 years after beginning in a part-time clerical position — Judy bought the company. (Editor's note: Her personal life and charitable life were similarly impressive.)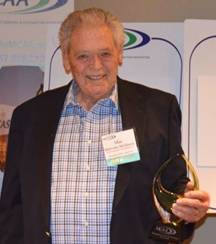 Malcolm "Mac" McQueen
Mac McQueen received his Bachelor's degree in Mechanical Engineering from the University of California, Los Angeles (UCLA). His early career was spent as a design engineer in the aerospace industry. It was then that he met Bob Deane who was working as an instrument sales representative. Together, they founded Fluid Components International in 1964 located in Canoga Park, California.
McQueen holds over 19 US and international patents involving flow applications. In the 1970s, FCI developed an air-to-gas flowmeter based on thermal dispersion technology and their thermal flowmeters were quickly accepted based on their accuracy and repeatability in demanding process industries. The company started a nuclear division in 1978 to deliver level, flow, and temperature measurement to the nuclear power industry. To accommodate an expanding international customer base, the company opened a European sales and service center in Europe in 1993, followed by establishing FCI China in 2010, and most recently opened a subsidiary in Saudi Arabia in 2016.
Mac retired from FCI in 1995 but continues as an active consultant in research and development and has served as FCI Chairman Emeritus since 2000.
Bob Deane
Raised in Massachusetts, Bob Deane developed an early interest in science. He worked for the Massachusetts Department of Entomology and Plant Quarantine in efforts to control the gypsy moth population. He served in the Navy from 1946 to 1948 as a Machinist's Mate and became a qualified submariner. Mr. Deane graduated from the Allen School of Aeronautics in Rhode Island and moved to California in 1954. There he worked in the aerospace and defense industries and met Malcolm (Mac) McQueen. Together they founded Fluid Components International in 1964.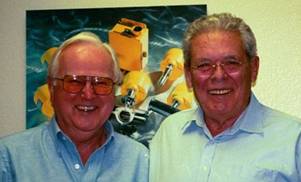 Bob Deane is the holder of three patents including the original thermal flow switch patent which helped launch FCI as a business. He also holds patents covering improvements to the thermal switch and a liquid-to-gas phase change detector. In 2010, FCI received the Control Global magazine Reader's Choice award for thermal flowmeters and flow switches. Bob Deane retired from FCI in 1995, but returned in 2010 to offer expertise and guidance on research and development projects. He continues to work closely with the FCI engineers on specialized projects such as flow instrument applications and proprietary sensor packaging designs.
In 2003, Bob Deane (left) and Mac McQueen (right) were interviewed by Flow Research about the founding of FCI. (The picture of them was taken then.) They recounted the formation of the company, beginning in 1964, and talked about how it became one of the leading suppliers of thermal flowmeters today. These interviews are published on the company's www.legendsofflow.com website under the category "Legends of Flow."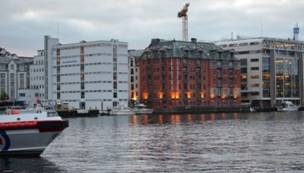 FlowTimes is published by
Flow Research, Inc.
27 Water Street, Wakefield , MA 01880 USA
+1 (781) 245-3200, +1 (781) 224-7552 (fax)
info@flowresearch.com
Executive Editor: Dr. Jesse Yoder. Assistant Editors: Leslie Buchanan and Vicki Tuck