welcome to
FlowTimes - November 2011
Your Update on Flow, Temperature, and Pressure Measurement from Flow Research
Editor: Dr. Jesse Yoder; Volume 12, Number 2 - ISSN 1350-7204
1.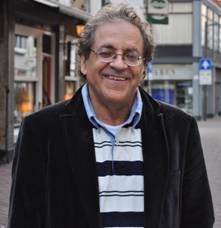 Welcome to FlowTimes!
Flow Research is on the move! I just got back from a trip to the International North Sea Flow Measurement Workshop in Tonsberg, Norway. This was the 29th time this workshop was held. The focus of the workshop, which alternates between Norway and Scotland is on multiphase and ultrasonic flowmeters. These topics are very timely for us, as we are just completing our study on multiphase flowmeters. We have also begun a new ultrasonic study, our Fourth Edition. We will be publishing two separate studies: one on inline ultrasonic meters, and a separate study on clamp-on/insertion meters.
This issue highlights some of our many current and upcoming studies.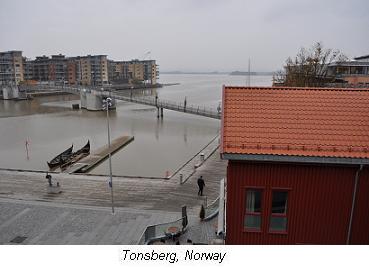 Chief among these are our series of six gas flow studies, which are highlighted in Topic #7 below. These studies represent the results of two years of research and multiple trips to the Middle East, Europe, various flowmeter conferences, and multiple supplier visits. This is a very productive time at Flow Research, and I hope you will be able to take advantage of this latest research in the field of flowmeters! To read more news from Norway, please see the Letter from the President.
2. Do Coriolis Flowmeters Really Embody the Coriolis Effect?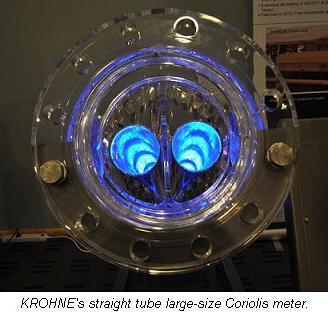 Dr. Jesse Yoder is stirring up some controversy about one of the fastest-growing flowmeter types, the ever-accurate Coriolis meter. He wonders, does it really use the Coriolis "force," as most people assume, or should it more correctly be called an "inertial mass meter"? The Coriolis effect is a phenomenon about the apparent motion of an object passing over a rotating body when seen from the viewpoint of the rotating body. Proponents of the Coriolis force as applied to the Coriolis meter seem to view the effect as a real force acting on the meter and causing it to twist and turn. But this "force" may simply be the result of the inertia of the fluid passing through the tube. And if there is such a force, it is quite different from the Coriolis effect as explained by the apparent motion of an object passing over a rotating body. For more, check out the November issue of Flow Control and the newly released Q3 issue of Flow Research's Market Barometer. And stay tuned for our study now in progress, The World Market for Coriolis Flowmeters, 4th Edition, due out in Q1 2012. www.FlowCoriolis.com

3. Should Vortex Flowmeters Inch Toward Larger Line Sizes?

While vortex flowmeters have many advantages, they also have certain limitations, including line size. Should manufacturers consider breaking the line size barrier to keep pace with larger and larger Coriolis flowmeter line sizes? This and other important developments are occurring in the vortex flowmeter market. For more information, including segmentation by line sizes, check out www.FlowVortex.com or, better yet, buy The World Market for Vortex Flowmeters, 4th Edition.


4. Pressure Transmitter Market Still Growing Strong

Pressure transmitter revenues have grown substantially in the last five years and are still going strong, according to our new study, The World Market for Pressure Transmitters, 3rd Edition. Pressure transmitters totaled $2.40 billion worldwide in 2010, with a projected compound annual growth rate (CAGR) of 6.1 percent per year to result in $3.22 billion in worldwide revenues in 2015. The total size of the worldwide pressure transmitter market is a little less than half the size of the worldwide flowmeter market in terms of revenues. Check it out! www.WorldPressure.com

5. Industry News: Three Fresh Faces on the Coriolis Block

Three companies are joining the ranks of Coriolis flowmeter suppliers:

TRICOR Coriolis Technology, a TASI Group/AW-Lake brand, has tapped the experience of engineers with strong Coriolis pedigrees to create a line they claim offers the best price and performance for compact Coriolis flowmeters. Don Cage, a Coriolis "Founding Father," and Jim Ruesch, who has four U.S. Coriolis patents, are principal mechanical engineers.

Racine Federated Inc. (RFI) in Racine, Wisconsin, well known for a range of flowmeters, is partnering with the lesser-known Applied Flow Solutions (AFS) in Scottsdale, Arizona to develop and manufacture Coriolis mass flowmeters for the global process and automation markets. In August, Dave Perkins, CEO of RFI and Wayne L. Pratt, President and CEO of AFS announced a partnership to develop and manufacture Coriolis mass flowmeters for the global process and automation markets.

PreCim, a new company in Israel, has set out to break the line size barrier with large line size Coriolis flowmeters with a small footprint. It was established August 2010 by three entrepreneurs: Tal Mokady, Dr. Ran Gabai, and Dr. Arnon Gat.

6. Industry News: Four Japanese Companies to Create a New Brand for the Global Water Business

Tokyo Keiki, Nagano Keiki, Chino, and OVAL hope to gain greater access to the global water market by joining forces. In July they agreed to enter into a basic agreement to form a comprehensive business tie-up. To read the entire announcement, see http://www.tokyo-keiki.co.jp/e/pdf/20110720_press_e.pdf

7. Get gased with our blockbuster study series, The World Market for Natural Gas and Gas Flow Measurement. Now shipping!

After two years of research, three trips to the Mideast, and more than 10 trips to conferences and customers in Europe and the U.S., our unprecedented series of studies on the natural gas and gas flowmeter markets is now available. In the course of our research, we realized how important it is to understand the natural gas market and its producers to really grasp the flowmeter market. If you had a full time analyst working for months on the gas market you'd be hard-pressed to get even some of this natural gas information together in one place, never mind the exclusive information and data we've unearthed in our globetrotting and other research.

We've put together 2500+ pages of material on the natural gas markets and gas flowmeter usage around the world, by regions and countries, plus an analysis of what all of it means for you. We offer our exclusive data on the flowmeter market and insights from more than 15 in-person interviews with Mideast oil & gas companies. If you haven't already purchased the studies, we hope you'll considering doing so now. The timing couldn't be better to understand the fast-growing worldwide market for gas flowmeters, which we found totaled $1.3 billion in 2010, with a projected compound annual growth rate (CAGR) of 10.1 percent 2015.

The series features a core study and five standalone studies:

Core Study: The World Market for Gas Flow Measurement, 2nd Edition, 682 pages, published in June, gives the size of the worldwide gas flow measurement market by technology type. It includes trends in gas flow measurement and profiles of the largest gas flowmeter suppliers.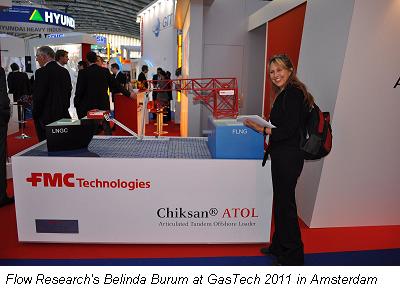 www.GasFlows.com
Module A: An Analysis of the Regional Gas Flowmeter and Natural Gas Markets, 854 pages, which shipped earlier this month, drills down into regional and country breakouts on gas flowmeter usage and the natural gas market itself. It is oriented towards companies that want to enhance their instrumentation sales worldwide. www.WorldNatGas.com
Module B: A Strategic Approach to Doing Business in the Gas Flowmeter and Natural Gas Markets in Mideast/Africa, now shipping, is based on extensive research – including onsite interviews with 15 natural gas producers in the United Arab Emirates (UAE), Saudi Arabia, Qatar, and Oman – to better understand gas flow measurement trends in this region. We asked companies what kinds of flowmeters they are using and what their expectations are for the future. The result provides a clear picture of flowmeter usage in the Mideast . www.MideastNatGas.com
Module C: The World Market for Custody Transfer of Natural Gas, 410 pages, published in July, determines worldwide market size and market shares for custody transfer in 2010, forecasts market growth for all types of custody transfer flowmeters through 2015, and identifies industry and application growth sectors. www.CustodyTransfer.com
Module D: Strategies, Industries, & Applications, 348 pages, shipped in July, provides strategies for companies already in the flowmeter market as well as for those considering joining. Company strategies apply to the entire flowmeter market, as well as to individual product lines.
Module E: The World Market for Multiphase Flowmeters, shipping in November, focuses specifically on the newest types of flowmeters to enter the market, multiphase flow. www.FlowMultiphase.com.
8. Study Schedule
Please open your doors for an onslaught of important data in the next few months. We're now working on these studies:
· The World Market for Turbine Flowmeters, 2nd Edition – November 2011 www.FlowTurbine.com
Builds on the 1st Edition study with updated and expanded segmentations and new profiles for the many turbine flowmeter companies.
· The World Market for Positive Displacement Flowmeters, 2nd Edition – November 2011 www.FlowPD.com
Detailed segmentation on the PD flowmeter market.
· The World Market for Ultrasonic Flowmeters, 3rd Edition – Q1 2012 www.FlowUltrasonic.com
A completely updated look at the worldwide ultrasonic flowmeter market with worldwide data from 2011 and forecasts through 2016. This study will be divided into two studies: one on the inline market and one on the clamp-on/insertion market.
· The World Market for Coriolis Flowmeters, 4th Edition – Q1 2012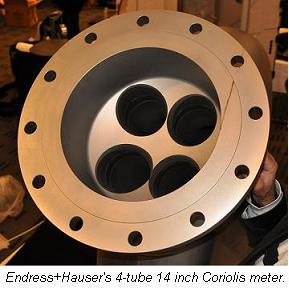 www.FlowCoriolis.com
Worldwide data from 2011, forecasts through 2016.
· The World Market for Mass Flow Controllers, 2nd Edition – Q1 2012 www.FlowMFC.com
Worldwide data from 2011, forecasts through 2016.
· The World Market for Oil and Oil Flow

Measurement, 2nd
Edition
– Q2 & Q3
2012
www.OilFlows.com
A timely and comprehensive look at this hot market will include a core study and five add-on modules.
By becoming a Founding Sponsor for these studies, you can not only participate in the research but also receive a significant discount.
9. New article links on our WorldFlow websites
Now there are two ways to access articles: find them on FlowResearch.com by publication date at http://www.flowresearch.com/articles.htm, and also within individual WorldFlow websites by relevant topic.
Some of the websites that contain new, on-topic article links are:
...and more. Check for the Articles link on each home page for the most up-to-date articles on that topic!
What do you think of FlowTimes? We welcome your comments! Please send any comments or suggestions to jesse@flowresearch.com.
To view previous issues of FlowTimes
, click here.
Executive Editor:
Dr. Jesse Yoder – jesse@flowresearch.com
Editor:
Belinda Burum – belinda@flowresearch.com
Associate Editors:
Norm Weeks – norm@flowresearch.com
Christina Glaser – christina@flowresearch.com
FlowTimes is published by Flow Research, Inc.
Flow Research, Inc.
27 Water Street
Wakefield , MA 01880 USA
+1 (781) 245-3200
+1 (781) 224-7552 (fax)
www.flowresearch.com