FlowTimes – April 2017
Your Strategic Update on Flow, Temperature, and Pressure Measurement from Flow Research
Executive Editor: Dr. Jesse Yoder; Volume 18, Number 1 - ISSN 1350-7204
1. Letter from the President
Welcome to another issue of Flowtimes! We started Flowtimes (then called Hot Hot Topics) in 2000 as a way of keeping you up-to-date on many of the exciting developments at Flow Research.
Last year we published some very important studies, including Liquid and Gas Flow Calibration, the Core Study of Gas Flow Measurement, and Multiphase Flowmeters. Flow Research attended the MCAA Conference in April 2016 and the CEESI Custody Transfer Conference in June 2016. The CEESI Conference also marked the initial meeting of the Flowmeter Recalibration Working Group, whose goal is to arrive at criteria for determining when a flowmeter should be recalibrated (www.frwg.org).
In December 2016, we published a worldwide study on the Coriolis flowmeter market. Many companies are following the developments in this fast-paced market. One of the most important changes is the availability of Coriolis meters that will measure flow in pipes up to 16 inches in diameter. Coriolis flowmeters are highly valued due to their high accuracy and their inherent reliability.
A recent and exciting development is the February 1st opening of our Secure Online Store! You can now order all of our recent and upcoming studies online at http://www.flowstudy.com.
We got off to a running start in 2017 at Flow Research with two studies that came out in January: Volume X: The World Market for Flowmeters, 6th Edition, and Volume X, Module A: Strategies, Industries, and Applications. Volume X provides data on all flowmeter technologies, including market size, growth forecasts, market shares, and product analysis. Data is provided for both worldwide and regional markets. This is the most comprehensive study of the world flowmeter market in existence. Module A gives both industry and application data for the individual flow technologies. Module A tells you where the rubber meets the road for the different types of flowmeters.
Volume X and Module A were followed by the publication of The Market for Temperature Sensors in the Americas , 3rd Edition. This study, which was last published in 2006, has proved to be very popular. Many changes have occurred in the temperature sensors market since we published our last study, especially among the suppliers. We have chronicled these changes extensively in the study.
We are currently working on new editions of our magnetic and ultrasonic flowmeter studies, which are among our most popular studies. After that, we expect to spend some time working on the oil markets. There have been a lot of exciting developments in the oil markets in the past year, with oil prices coming back to the $50 per barrel range. Even though the future of oil prices remains uncertain, this comeback is encouraging some companies to increase their investments in upstream production. This can only be good news for flowmeter and instrumentation companies.
See below for more on these topics and more. We hope you enjoy this issue. And thank you for your loyal support throughout the past year!
2. Flow Research Introduces New Secure Online Store
We would like to invite you to visit our Secure Online Store. Now you can order many Flow Research studies using the convenience of online ordering. And you can save money in the process! Currently, we are offering a $200 discount on any study ordered through our Secure Online Store.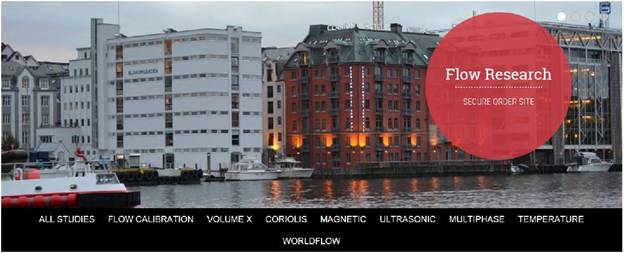 You can go directly to our Secure Online Store at www.flowstudy.com. And, of course, there's a link in the top banner of our home website, www.flowresearch.com. You can also now get to it quickly from many of our study websites – just look for the words Order It Online Now! Once at the store, simply click on the study or studies that interest you. You will be taken to a page with more details about the study, along with several options. Add the study to your cart, and follow through to Checkout. Once you reach the payment page, you will see "Have a coupon code?" Enter ONLINE in the box (uppercase or lowercase) and the $200 discount will be applied to your order!
You can order online the following studies that are ready for immediate delivery:
You can also order online the following upcoming studies:
Multiphase Module A: The World Market for Watercut Meters (April 2017) www.watercutmeters.com
Core Study: The World Market for Ultrasonic Flowmeters, 5th Edition (Q2 2017)
Module A: The World Market for Inline Ultrasonic Flowmeters (April 2017)
Module B: The World Market for Clamp-On & Insertion Ultrasonic Flowmeters (April 2017) www.flowultrasonic.com
The World Market for Magnetic Flowmeters, 6th Edition (Q2 2017) www.flowmags.com
We hope you find that your visit to the Secure Online Store will be an enjoyable one. And, if you prefer, you can still order our studies the same ways as before: by email, fax, mail, or by giving us a call. Your Secure Online Store experience awaits you at www.flowstudy.com!
3. Coriolis Study Available from Flow Research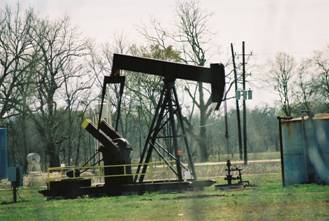 The World Market for Coriolis Flowmeters, 5th Edition — This new edition of our Coriolis study, published December 2016, is 500 pages packed with information.
Flow Research has published previous editions in 2001, 2003, 2008, and 2013, and follows the Coriolis market regularly. Our end-user interviews indicate that the interest in Coriolis flowmeters remains at a very high level, and that end-user needs have become more complex and demanding.
This 5th edition of our study analyzes in depth the overall market size and forecasts market growth from 2015 to 2020, while also taking into account data from 2016. Covering the market worldwide and by 8 geographic regions, this edition includes all the segmentation of earlier studies, plus brand new additional segmentation.
This study addresses the key issues in the Coriolis flowmeter market, including:
Growth in the use of smart Coriolis flowmeters
Growth in the popularity and availability of low-cost Coriolis flowmeters
The relative merits of straight tube vs bent tube meters
The growing use of Coriolis flowmeters to measure gas flow
The emerging market for Coriolis in steam flow measurement
Growth in the market for large line size Coriolis meters
The use of Coriolis flowmeters for multiphase flow measurement
For further information, read the Overview at www.flowcoriolis.com, or contact Flow Research.
4. Emerson strengthens local manufacturing and services with a new facility in Dammam, Saudia Arabia
Damman, Saudi Arabia, January 11, 2017 – Emerson Automation Solutions has opened a new manufacturing facility in Dammam First Industrial City in Saudi Arabia to expand its local manufacturing, project execution, and service capabilities.
The 1,100-meter-square facility in Dammam will provide engineering, staging, commissioning, operational support, maintenance support, repair, field services and training support to customers in the capital of Saudi Arabia 's eastern region. It will be dedicated for control and safety systems, reliability technologies, and remote automation solutions for wellheads, pipelines and terminals.
5. Latest Editions of Volume X and Module A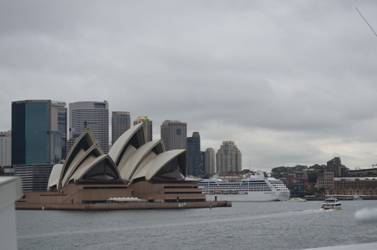 Volume X: The World Market for Flowmeters, 6th Edition was published in January 2017. We completed our first Volume X study in 2003, and published subsequent editions in 2008, 2010, January 2013 and August 2014. It is very difficult to find reliable data on the entire flowmeter market without studying each individual technology first and then combining the data together. This is what we do. Bringing together Flow Research's knowledge of all the flowmeter markets, Volume X presents an all-in-one, comprehensive view of the worldwide market for flowmeters. It has become one of our most popular studies ever.
This study includes chapters discussing the market as a whole and by new-technology, traditional technology, and emerging technologies, as well as chapters devoted to the individual flowmeter types. This study provides revenue, unit, and average selling price data segmented by geographic region, plus product analysis and growth factors for each flowmeter type.
Market size of the worldwide market for 11 flowmeter technologies

Five year market size forecasts for each flowmeter type

Market shares of the leading suppliers for each flowmeter type

Both worldwide and regional market size and market share data

A technology description and analysis for each flowmeter type, including major competitive strengths and weaknesses

A product line analysis for the major manufacturers of each technology type

Company profiles with product information for easy comparison
Volume X provides the tools you need to get an overview of the worldwide flowmeter market, and to compare market size, market shares, and growth rates for all the flowmeter technologies.
Module A: Strategies, Industries, & Applications, also published in January 2017, contains in-depth research that complements and builds on the results of Volume X: The World Market for Flowmeters, 6th Edition. Module A provides industry and applications data for most of the flowmeters included in Volume X. This study also includes strategies for flowmeter suppliers who are selling into these markets. The purpose of doing an individual module is so that we can devote more attention to these important topics, and also include separate discussions regarding growth prospects in the individual process industries. The module can be ordered as a stand-alone or as an add-on to the main study.
Module A provides data for:
The same geographic regions as Volume X
Growth factors for different industries and applications that flowmeters are sold into
Shipments by industry and application in dollars and percentages, broken out by flowmeter type
Five year forecasta by individual flowmeter types for both industries and applications
Strategies for competing in today's rapidly changing process industry environment
Essential information on market outlook and industry trends by flowmeter type
For more details on Volume X: The World Market for Flowmeters, 6th Edition and
Volume X, Module A: Strategies, Industries, & Applications please visit www.flowvolumex.com or contact Flow Research.
6. TechnipFMC begins operations as a combined company after completing merger of FMC Technologies and Technip
London , Paris , and Houston ; January 17, 2017 — TechnipFMC (NYSE and Euronext: FTI) announced that it is operating as a unified, combined company following completion of the merger of FMC Technologies and Technip. The merger creates a global leader in oil and gas projects, technologies, systems, and services that will enhance the performance of the world's energy industry.
Driving the change the oil and gas industry needs
Beyond today's pressures on the oil and gas industry, hard-to-reach resources cannot be fully developed unless there is significant and sustainable improvement in project economics. Change is needed, now more than ever.
TechnipFMC is well-placed to meet the challenge and lead this change. By bringing together complementary skills and innovative technologies, the company can boost efficiency, lower costs, and accelerate schedules. Its offerings encompass concept to project delivery and beyond. Whether clients need an individual operation or an end-to-end solution, TechnipFMC is positioned to transform project economics across subsea, onshore/offshore and surface, and lay the foundation for sustainable success.
"This is a transformational day for TechnipFMC and our employees," said Thierry Pilenko, Executive Chairman of TechnipFMC. "As one company, we can make oil and gas projects more viable, driving value for our clients and shareholders. With an unmatched commitment to innovation and efficiency, TechnipFMC will advance the creation of cost-efficient solutions for years to come."
Combining capabilities and technologies to unlock potential
Formed through the combination of two market leaders with complementary capabilities and technologies, the company builds on early involvement and integrated solutions to simplify field architectures and decision-making. TechnipFMC believes in innovation, smarter design, and seamless ways of working.
Doug Pferdehirt, Chief Executive Officer of TechnipFMC, said, "With our merger complete, TechnipFMC is uniquely positioned to unlock possibilities for our clients to transform their project economics. We will do this by inspiring a culture of challenging conventions and finding new and better ways of doing things. I am honored to lead our combined team of talented employees and look forward to our future as TechnipFMC."
Brand and purpose
TechnipFMC today unveiled its new brand identity and logo, which represent the joining together and integration of two established entities to create one bold, forward-looking company. TechnipFMC is moving forward with a purpose to bring together the scope, know-how, and determination to transform its clients' project economics and a vision to enhance the performance of the world's energy industry.
For more information about TechnipFMC, visit their website at www.technipfmc.com.
7. OPEC November 2016 Meeting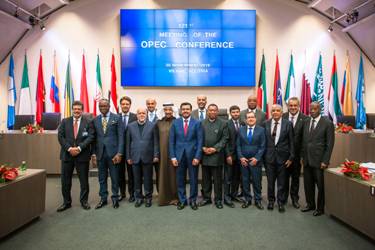 On September 28, OPEC agreed on the framework of a production cut, with details to be worked out in the next Ordinary Meeting of OPEC on November 30, 2016. Their production target for OPEC production was between 32.5 and 33.0 million b/d. The oil market responded positively, with West Texas Intermediate (WTI) oil closing at above $51 per barrel on October 11, 2016. From October 11 to December 1, 2016, the prices of WTI ranged between $43 and $51 per barrel.
Despite the skepticism of some analysts, at its Ordinary Meeting on November 30, 2016, OPEC agreed to a production cut based on the framework established at the September 28 meeting in Algeria . The cut included both OPEC and non-OPEC countries, and amounted to about 1.8 million b/d. OPEC agreed to a total target of 32.5 million b/d, which included a cut of 1.2 million b/d from OPEC countries. The balance of 600,000 b/d was to come from non-OPEC countries. About half of this amount, or 300,000 b/d, was to come from Russia . The agreement took effect on January 1, 2017.
What made the deal possible was Saudi Arabia 's new flexibility with respect to Iran . Saudi Arabia agreed to allow Iran to produce up to 3.9 million b/d as a special case.
The other production cuts agreed to were as follows:
Saudi Arabia: 500,000 b/d Qatar,
United Arab Emirates, and Kuwait: 300,000 b/d
Iraq: 200,000 b/d
Oil prices responded very quickly and positively to the new oil agreement. WTI closed at $51.08 per barrel on December 1, 2016. Since that time, WTI has stayed in the $50 per barrel range.
8. Yokogawa releases Total Insight series of flowmeters
October 14, 2016 — Yokogawa Electric Corporation announces the global release on this date in all markets other than Japan of ROTAMASS Total Insight (TI), a portfolio of four-wire Coriolis mass flowmeters and transmitters. This Coriolis mass flowmeter product platform was developed based on a Total Insight concept that seeks to optimize operations and reduce maintenance costs at all phases of the product lifecycle… Rota Yokogawa, a Yokogawa subsidiary in Germany , has been producing and supplying ROTAMASS series mass flowmeters to the global market since 1993.
9. Flow Research welcomes new members to the Team!
One of the walls in our office suite has a display, "Teamwork Makes the Dreamwork," surrounded by stars with staff names on them. Last Fall, Flow Research had the good fortune to welcome two new members joining our team. And they are indeed proving to be stars — they are both bright and warm people with great energies to add to the synergy of our group.
David Goldstein, Business Analyst, joined Flow Research in September 2016. He has an MBA from Boston University and 30 years of professional experience including various management positions in Sales and Marketing with consumer product companies. David developed products and programs for customers as large as Wal-Mart and as small as independent corner drug stores. At Flow Research, he combines his market research and business analyst skills with his astuteness and organizational abilities to assist with research and writing for studies and projects.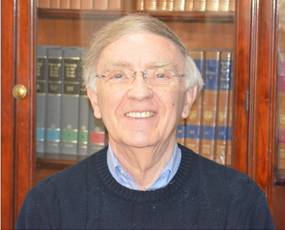 Harry Lund, Sales Director, joined Flow Research in October 2016. He has 45 years' experience in the flow measurement industry with several US and international corporations. From his beginning as a technical writer, he advanced through communication systems, application engineering, and product management to VP Sales, Service, and Marketing. At Flow Research, his experience and skills with people, products, and the flow measurement business world are a valuable resource for our customers and us. One of Harry's many strengths is in formulating strategies to enable companies to compete more effectively in the marketplace.
10. Get your free copy of our latest "Go with the Flow" CD
Flow Research is pleased to present the latest edition of our Go with the Flow CD, chock full of informative articles on flow technology, related process instrumentation technologies and topics, some food for thought, and some just plain fun stuff.
On the "Go with the Flow" CD, you will find:
A Guide to the CD that includes the titles of the articles contained on the CD

The "Go with Flow Research – Articles & Studies" section — An extensive collection of over 180 published articles on flow and instrumentation, categorized by technologies and topics, along with Overviews of some of our main studies related to those subjects.

A philosophical book called Shades of Experience. This book explains viewpoint pluralism, which is the philosophy underlying our market research.

Two songs you may like: Go with the Flow and King of Flow

A brochure about Flow Research and a Response Form.
To request a free copy to be mailed to you, please visit www.flowcd.com. You can also request a free copy with an email to info@flowresearch.com or by calling us at 781-245-3200.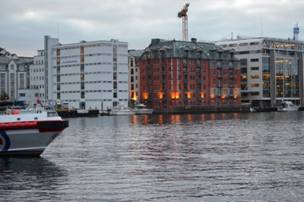 FlowTimes is published by Flow Research, Inc.
Executive Editor: Dr. Jesse Yoder
Assistant Editors: Vicki Tuck and Leslie Buchanan
Flow Research, Inc.
27 Water Street
Wakefield , MA 01880 USA
+1 (781) 245-3200
+1 (781) 224-7552 (fax)
info@flowresearch.com
www.flowresearch.com